Access to affordable health insurance, at first glance is an overwhelming concept to process, let alone navigate. Amplify the experience with having to factor in being an entrepreneur with a pre-existing health condition AND being a Black woman in America—  the annual task becomes nearly nauseating. Nevertheless, like most things put in front of Black womxn — it's something we are going to get done either way.
Maintaining good health started to become tricky for me before I became an entrepreneur. In 2006, a few months after my 21st birthday, I was diagnosed with acute lymphocytic leukemia (cancer normally in children ages 2-6). At the time, I was gainfully employed in corporate America. Thankfully, there were no real moments of angst or concern regarding payment for my care. My mom has also worked in the healthcare industry for years and knew exactly how to move through the system should a problem occur.
After my bout with cancer, I felt compelled to step further into purpose and tap in to a bravery I had buried deep within myself, to focus on the road more traveled that my family campaigned me towards most of my life. I decided to take the leap into entrepreneurship and bet on myself. However, my biggest concern in doing so was how I was going to pay for healthcare. Having always been attached to a corporate health care package or family plan (or at least having the luxury to be attached when I was under 25), I never had to think about paying for healthcare or what that would look like. How was going to work for me now with cancer on my medical record?
Ask For Help
I immediately called my mom, who for all intents and purposes is simply a member of my network, and sought her counsel. After a discussion littered with an amalgamation of her professional opinion and pure trepidation as a mother, we decided the safest bet was to stick with my original provider and get the most coverage I could afford with Kaiser Permanente (KP). Kaiser has been my health provider since birth. Being with KP,  gave my mother peace of mind. After putting her through cancer, I thought not being hard headed for once, was the least I could do. 
The continuity of my medical history being in their hands was honestly the most important thing to me and my family.
Project Manage
The experience of being diagnosed with cancer taught me how to self-advocate. It's really the only transferable skill you need when managing your care. Good doctors exist within every network. The question is which do you like, which can you afford, who has what you need?
When approaching the overwhelming task of choosing a provider, my advice— do as you normally would when making a decision. For me, that is outlining pros and cons, listing base needs, making a wishlist, identifying boundaries, seeking counsel from experts (generally at least one is in your tribe or a few degrees separated), and my personal favorite— giving myself space to think and process. 
Take It One Step At A Time
You may not get it right the first time. You may find a doctor you love later down the road outside of your network. You may move. Don't worry about any of it. Unlike corporate benefits, there is no annual enrollment window you are boxed into anymore. As an entrepreneur, paying out of pocket every month, you can leave this relationship wherever you want. Simply give yourself the backing to make a strong decision just as you do every day and the fluidity to move freely should you choose. 
ABOUT THE AUTHOR, ADRIENNE REED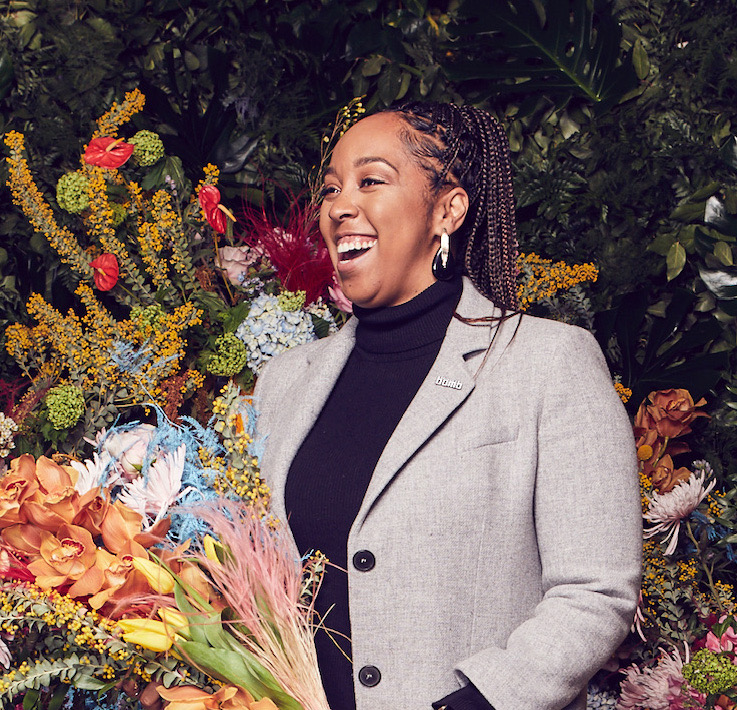 Adrienne Reed is the founder and CEO of The Hamba Group Inc. -- a multi-hyphenate creative lifestyle agency rooted in strategy and direction. Reed's firm is committed to standing as an amplifier for change by expanding the reach of organizations driven to build voice reflective of the true culture of the market.  Hamba's most notable effort is a uniquely marketed, monthly activation masquerading as a mere day party. The co-founded, Brunch 2 Bomb, is geared towards creative, professionals drawing more than 1000 guests each month. The event has developed a growing community, now 25k strong with over a collective $2B+ in economic presence and immeasurable influence across industries. In September 2018, Hamba also launched, Blue Drop Entertainment, who's first short film addressing cancers like colorism and bullying from a hindsight perspective, was recognized at the Pan African Film Festival. Additionally, Reed is fervently building outlets for the communication of self discovery and alignment as it relates to professional purpose with Reed Between the Gray (podcast), Meet the Tiny Humans (book), and more in development. 
Reed is a survivor of acute lymphocytic leukemia, a proud product of her great-grandparents child rearing philosophies, an actively engaged aunty, passport stamp enthusiast, and a proud Pomona native. Reed currently resides in Los Angeles' historically Black community of Ladera Heights.
Simply said, Adrienne Reed is passionate and purposeful in her undying pursuit to expand the visibility and equity of the global Black narrative that is culture (the real celebrity).
Feeling inspired? Follow Adrienne and her projects on Twitter @theadriennereed Facebook @theadriennereed IG @theadriennereed @thehambagroup @brunch2bomb and connect with her on LinkedIn.